Part Two of Recommendations
Again thanks so much for reading and responding! I had some pretty good recommendations on my blog and in person.  I have added links to Goodreads, IMDB and Youtube videos if any of the following media interests you.
The Watchmaker of Filigree Street by Natasha Pulley  (book)
More steampunk from the 1880s in this historical fiction. It has mystery, a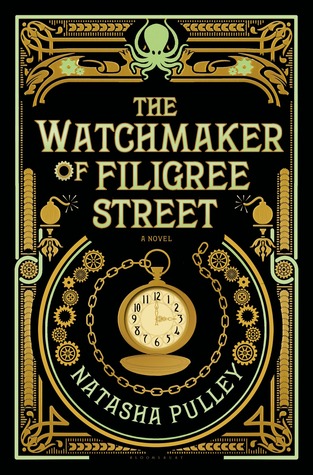 mysterious pocket watch, and even more mysterious characters. The blurb seems oblique which likely means there are too many twists, turns and mysteries to summarize properly. My sister in law had just started reading it when we went on vacation together and I never got to hear how she liked it, but I am looking forward to trying it myself.
Devil in the White City: Murder, Magic, and Madness at the Fair that Changes America by Eric Larson (book)
The blurb reads like fiction. Everything seemed to happen at these world fairs. One of my favorite fun facts about the 1893 World's Fair is that is where Pabst Blue Ribbon beer won its blue ribbon. Although the title seems all inclusive let me share that the book mainly follows the architect for all the amazing buildings that spring from ground and another serial killer that must be drawn to the masses of easy prey. Now I can't wait to get my hands on a copy. 
Max Headroom (TV series)
I came around after the swell and ebb of fascination with sassy, glitchy music VJs. This was another show that was recommended to me and I got to view it right after. I
was coached beforehand that this series was created when there were computers, but there was no Internet. I do remember before my family had Internet. And then we exited that musty old cave. Anywho, the show is futuristic (specifically 20 minutes in the future) and the most important difference in this Blade Runner type world is that televisions have no off-switch and they are two way. The show focuses on wordplay and human emotion so despite the sometimes (VERY) silly sounding tech talk this show is still entertaining. Carter, Max and a team of misfits uncover some treachery in the way things are run in their world by broadcasting the facts.  
Mokoomba (band) and specifically the song "Masangango"
I gotta say, this is not my normal style of music, but I loved it! My friend really sold it when he recommended it to me by saying, 
Mokoomba is an exciting, Afro-fusion band from Victoria Falls, Zimbabwe.
Their sound has elements of Afro-pop, hard reggae, and rock. Vocalist Mathias Muzaza's powerful singing is matched by the incredible musicality of the band. This particular song is a masterpiece. The melodic intro with haunting vocals and subtle blues licks on guitar soon lead to a happier rhythm, punctuated by the traditional African mbira thumb piano. The song builds from there, yielding the fierce and powerful vocals for which Muzaza is famous!…The listener may not know the meaning of the lyrics, but that fact will not diminish the power of song or the enjoyment of it.
Thanks for sharing, Thor! Catch more snark and tune recommendations from Thor on Twitter @RadioThor. The song has an awesome blues/reggae vibe that sits just right and I'm following Mokoomba on Spotify. I suggest you check out more of their music as well.
Naked in Death by JD Robb (book)

Futuristic lady detective who gets involved with one of her suspects. There are quite a few books in the In Death series penned by Nora Roberts under her pen name. I don't believe I can get through 30+ books, but I will definitely look into the first few books soon.
Chronicles of Prydain by Lloyd Alexander (books)
I can't tell you how many times I have been told to read this series. Young boy is charged with babysitting a magical pig. It's a very famous fantasy series with adorable cartoon that doesn't hold at all true to the books. Maybe I will give this another go. I haven't ever really given this book a chance.
Pink Panther (movies)
I know I have seen bits and pieces from the Peter Sellers and the Steve Martin versions of these films. Of course, Sellers is the classic. I need to go through and watch the movies again. Good old physical comedy from the way back whens.